welcome
JSJ Livestock is a family owned operation located 2 miles north of Hartney, Manitoba. At JSJ we raise and sell quality Gelbvieh seed stock. We are Masterfeeds dealers that specialize in Crystalyx Brand Supplements.
In 2007 we went looking for a cattle breed with an open mind. Hoping to find one that would fit our busy lifestyle. After many hours, farm visits and research, we purchased our first purebred Gelbvieh Cattle. Since 2007 our Gelbvieh herd has grown to approximately 100 purebred and full-blood cattle.

We believe strongly that Gelbvieh dams are among the best in the industry. They are heavy milking, easy doing, long lasting cows. Their good temperament, excellent mothering ability and calving ease, made this breed an easy choice for us. Gelbvieh cows wean off a higher percentage of body weight and do it on less feed. At JSJ we strive for longevity, by putting udder structure and milking ability at the forefront. We also select for structural soundness and performance.

Bulls sold with the JSJ prefix are the top quality genetics from our herd. We cull our bulls hard. Only the very top animals make the pen. Our bulls are selected with the commercial breeder in mind. Bulls selected from our program will improve maternal traits without giving up performance.

At JSJ we also run a commercial herd with Simmental and Angus influence. In 2017 we became authorized Masterfeeds Dealers. We look forward to helping you with all you animal nutrition needs.

Please feel free to contact us with any question or stop by the farm for a visit. The coffee is always on!
James and Shayla Jasper and family
LATESTNEWS...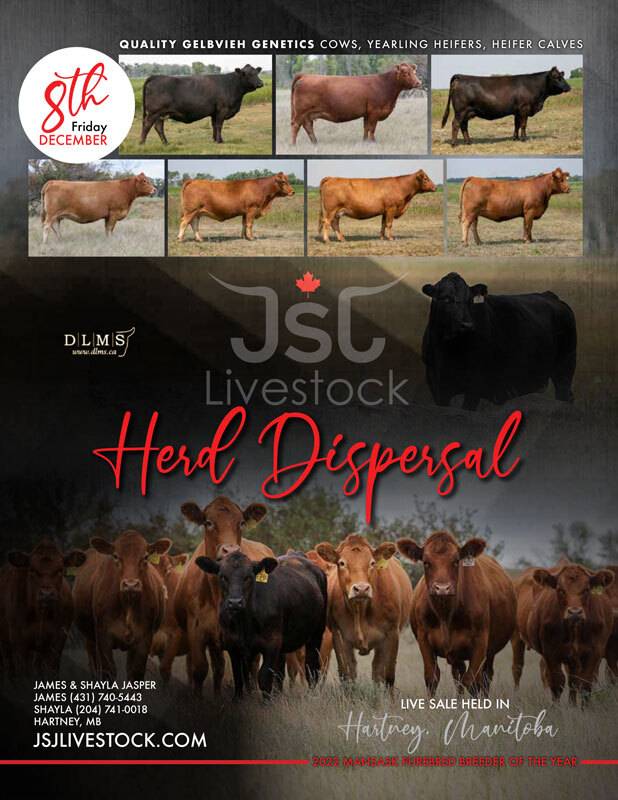 Click here to view Ad